I feel like this is a very special week! Two big recaps!
Kristen and Paul are also very dear to my heart. I've blogged about them a few times, but there is the first recap with the teaser pics and vendor details:
click here
.
They are both very artistic and talented, and it definitely showed throughout their wedding. They were married Easter weekend in April earlier this year. Although it was not an easy task to a find a church that would marry them Easter weekend, we did find one eventually, and it was PINK!
The Easter and Bunny theme did play out through the wedding, but it was very tastefully done (especially tasty the peeps!).
Special thanks to Dollface Studio for sharing these images with us! I love working with them.
Kristen made the signs for both their rooms at the fabulous Loews. Kristen was hooked up with a sweet suite!
Kristen's gown was so exquiste. I'm personally a fan of delicate lace, and so I loved her gown:
Her something blue:
And a Penny in her shoe:
I absolutely loved her dress. Check out the train!
The bridemaids and junior bridesmaid look great too in their different shades of pink!
Kristen's make up was done by the fab
Cindy Singer at Dylan Michael Cosemetics
.
We hung a K an P on the gates of the church to make the proper entrance to the ceremony:
Here they are inside the beautiful Arch St. Presbyterian Church:
I love that they ran into another couple during portraits!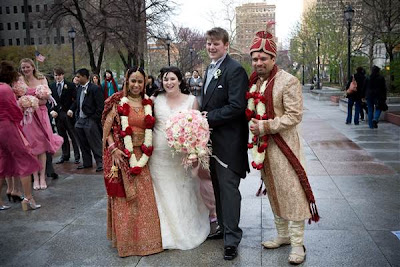 The dashing couple after the ceremony in Love Park:
and in front of city hall:
Check out her cute flip flops!
Her bouquet was a piece of work! And it was heavy. Carl Alan did a great job with it:
The reception was held at Knowlton Mansion and had beautiful full rose centerpieces created by Carl Alan:
Kristen and Paul made the table numbers themselves.
This is a little piece that they made which we placed in various places in the house for added decor. They are all about the details!
For escort cards, they hand made a paper flower of different styles and colors for EACH AND EVERY guest. The flowers were pinned into a moss base. It was adorable!
On that same table, we set up their card box, which was actually a smaller version of an antique mail box!
Paul's father made this!
What a talented family!
Instead of the traditional guest book, they used a blank canvas and guests took the liberty of drawing and writing messages. I thought it was a great idea!
The cake was awesome too, and very tasty!
But the best part of the cake was the cake topper - created by Paul himself!
One of the sweetest parts of the wedding was Paul's bestman singing their first dance. It was great. He played the keyboard and sang while the newlywed couple took their first moments of being married:
But he wasn't the only musical one!
Knowlton Mansion has a small wine cellar, and this was open to guests during cocktail hour:
Later in the evening, Kristen and Paul snuck away with the ladies of Doll Face and took some great pictures. Very sexy, but also very victorian.
Doll Face did it
again
and this time it was for Kristen and Paul's post-bridal shoot. Check it out
here
!
If you're looking to have cute details added to your wedding but don't have time, email Kristen. Kristen and Paul would love to help you with your wedding!
kristenseese at mac dot com
.